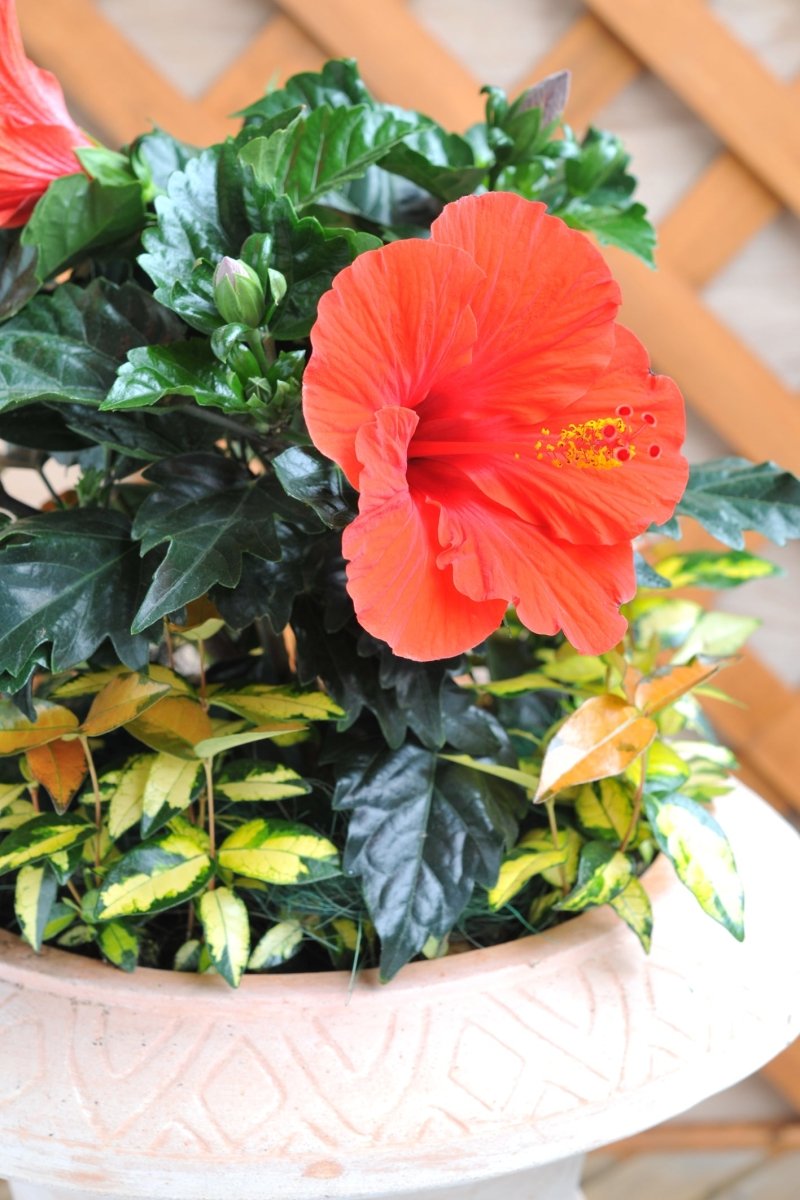 #Hibiscus #Enjoy #Enjoy
Let's enjoy summer with tropical flowers! The sales may have a summer image, but the peak of sales is in June. This month, there will be so many flowers in stores that it's hard to choose the right size, flower color, and flower shape.
#repotting 
Let's make the pot bigger by one to two turns and let it bloom well. Repot the pot as soon as you purchase it so that it will bloom until autumn. Roots are strong. Avoid dropping buds and leaves due to clogged roots and lack of water. Buds may fall off before they grow big, but the cause is either clogged roots or lack of fertilizer.
#I love manure.
Put the original manure firmly and plant it. If you add slow-release fertilizer once a month and liquid fertilizer once every 1-2 weeks , it will bloom one after another. Fertilize well until October.
#insects 
If you leave it alone, aphids are likely to stick to it, making it difficult to remove. Prevent pests from the beginning with pest control sprays and granules.
#in the flower bed
You can enjoy it in the flower bed. The part with leaves will be about 3 times the volume, so think about the placement. If you enjoy it until the end of autumn, you can cut back about half to 1/3 of the branches that have grown by autumn, make the roots smaller, and put them in a pot indoors to pass the winter.
# cold # heat 
Hibiscus is sensitive to cold. From around November to mid -May , when the temperature drops below 10°C , the room is exposed to the sun, and even on the warm veranda, it is covered with transparent vinyl to prevent cold wind. It seems that the hotter the better, but if the heat exceeds 35°C for a long time, the flowers will get tired in the summer and the flowering will slow down. We recommend moving to semi-shade in midsummer. It's over because the flowers don't bloom! Don't think about it, let's wait. When the temperature cools down in autumn, it blooms vigorously. Fertilizer should be avoided during high temperatures above 35°C .
With just a few tricks, you can enjoy it for nearly 5 months and enjoy it every year. This is a recommended flower for June that I would like you to enjoy.
今月の花かがみ
It's early and it's been half a year left for 2023 years. June means Father's Day! [Mother's Day = Carnation] Many people receive flowers as a gift, but what about flowers for Father's Day ? Isn'...
Read more