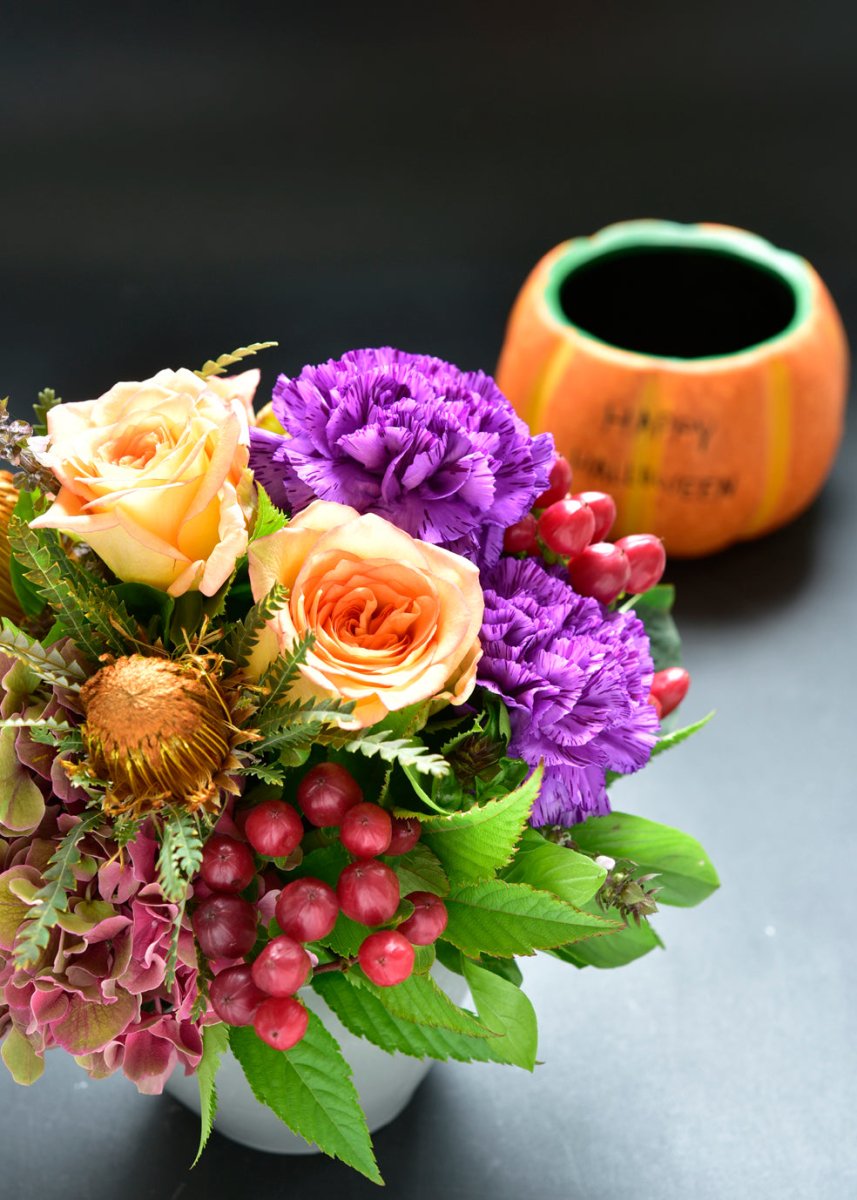 Birthday flower to choose by COLOR ~AUTUMN color~
It's time to feel the depth of autumn in the sound of insects in the morning and evening. October is the season when autumn leaves begin. My eyes naturally turn to the scenery that turns to autumn colors. In such a season, we recommend the " AUTUMN color " which adds red and purple to the orange base.
October is the time when autumn flowers and cut flowers with deeper colors are shipped more often. This month we will introduce flowers recommended for autumn gifts.
[Mum]
Chrysanthemum flower, which is also the nation of Japan. Mum mainly refers to western chrysanthemums, excluding ring chrysanthemums and small chrysanthemums ( general offering chrysanthemums) among the chrysanthemums that are distributed fresh. There are various variations, from gorgeous blooms like dahlias to mums that look like ping-pong balls. It is a flower that represents autumn.
Autumn color arrangement of mum and roses
[Autumn Hydrangea]
Autumn-colored hydrangea refers to the state in which the flowers that bloom in early summer, which is the normal blooming season for hydrangeas, have changed to antique colors over time due to changes in temperature. The more astringent colors can only be enjoyed at this time of year. It is also recommended as a dried flower.
Halloween bouquet of roses and autumn hydrangeas
[Wildflower]
A wildflower with a unique shape. There are various types, and they are native to countries in the Southern Hemisphere, and are sometimes called "native flowers". From this time onwards, shipments will increase. Recommended for those who like unique arrangements.
Halloween arrangement of roses and wildflowers
【rose】
As temperatures cool, the color and quality of the roses improve significantly. Orange roses and other brightly colored roses go great with autumn flowers.
A basic autumn gift that combines seasonal flowers with orange and red. A Halloween color gift that combines purple. It is a perfect coordination for flower gifts in October. How about a seasonal flower gift that you can enjoy in "AUTUMN color" this month?
Birthday flower to choose by COLOR ~LIME~
It's the season when the sunshine is getting more and more like summer. How about a cool lime color this time of year when the heat is overwhelming? This month's theme is " LIME ", and we will int...
Read more
今月の花かがみ
The autumn gardening season begins in earnest in October . From late October , pansies, violas, and garden cyclamen will begin one after another. Viola Violetta The Violetta series that w...
Read more